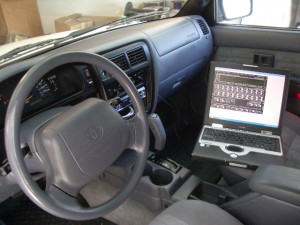 Refurbished laptops are usually not found in large corporations or companies where new products are leased and then changed out according to some pre defined replacement schedule. Where a Refurbished Laptop is a great choice is in occupations where a laptop may not be provided by the employer but where is is needed by employees to make them more productive. A good example of a work situation where a refurbished laptop is the perfect choice is for automotive technicians who usually have access to a single store computer for accessing databases or automotive forums. The technician who wants to be more productive, and in this field time is money, will acquire a laptop to use on the shop floor, right along with the other tools that are need daily. With the individual tech owning and using his own computer he/she can access the needed information directly with out waiting in line for the shared system to be available.
The refurbished laptop is a perfect choice because the laptop doesn't have to be the latest technology, and the financial outlay for refurbished laptops is significantly less, and affordable for the employee who has to provide his own tools. Automotive technicians usually provide their own tools and the savings or a refurbished laptop or a slightly used notebook can be significant. With a little effort in shopping on line it is easy to find refurbished laptops for under $500 that are less than a year old from date of manufacturer, or in some cases Laptops Under $200 or $300 dollars can be found which are ideally suited for the automotive technician workplace. When shopping for a refurbished laptop a primary consideration is that the laptops have wireless capability built in, or with a provision for a add-in wireless card.
If you need a laptop in your occupation, and it isn't provided by your employer than refurbished laptops are an ideal choice.
Originally posted 2010-09-06 12:04:07.